Enhance the use and the convenience of your grain bins with superior grain bin accessories from Brock®.  Whether you are looking to distribute your grain more optimally, provide more security, or aid in the ventilation of your grain bin, we have the solutions to meet your specific needs.
All of Brock®'s accessories are designed with you in mind. Carefully crafted to make using your grain bin more safe, efficient, and productive.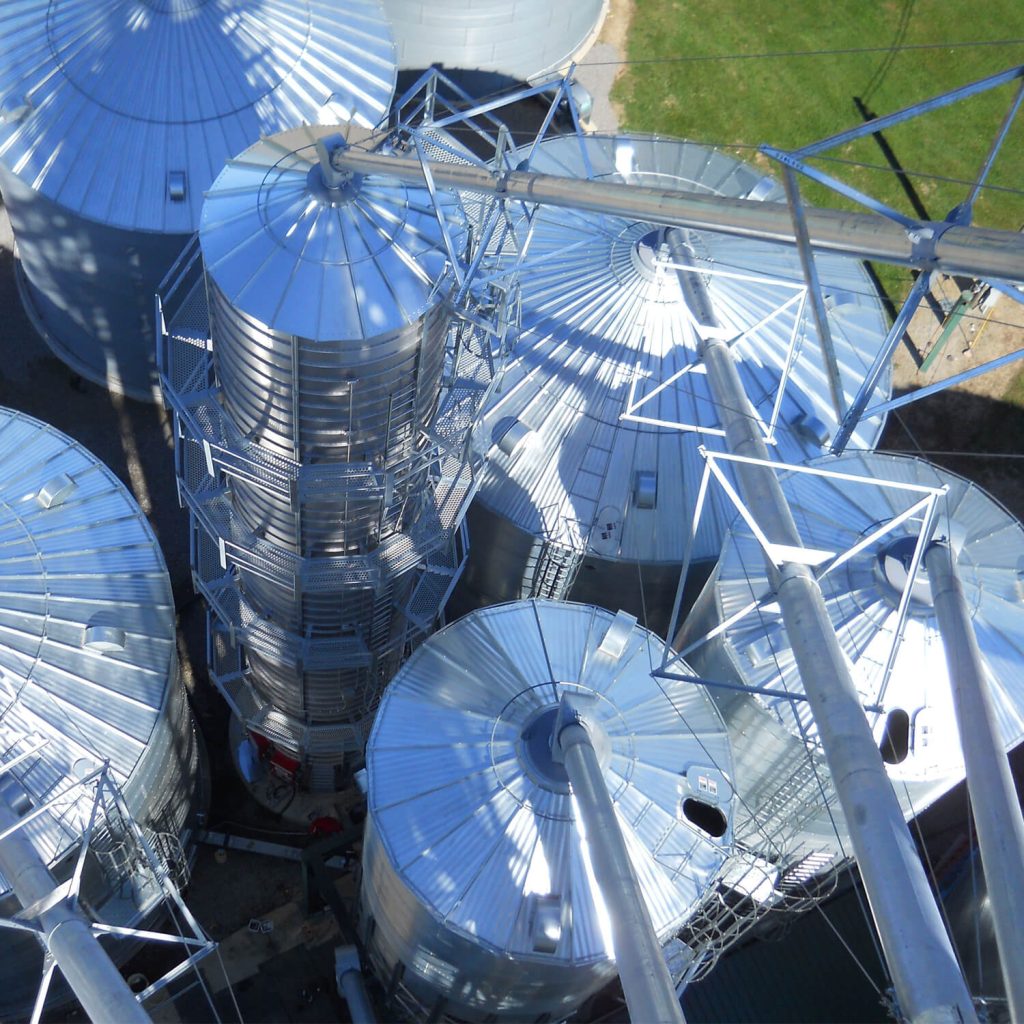 From Grain Spreaders to Aeration Floor Supports, Custom Agri Systems, Inc. is proud to be a product supplier for the wide variety of grain bin accessories available from Brock®. Our experienced team can help you make the most out of your grain bin.
Brock® Grain Spreaders
Evenly distribute grain to allow for optimal drying and uniform aeration while the bin is being filled.
Brock® Gravity Roof Vents
Choose from elbow (pictured) or mushroom-style vents to provide free air movement in your bin.
Brock® Ladders & Security Doors
Restrict unauthorized access to your storage bins with a ladder-lock system and security door.
Brock® LATCH-LOCK® Bin Entry Doors
Take the hassle out of grain storage and increase safety with easy to open panels that stay secure.
Brock® Mid-Roof Walkarounds
Protect your employees and your grain by providing improved and safer access to your grain bins.
Brock® Roof Eave Vent System
Aid ventilation with a system that works better, costs less, eliminates roof cuts, and lowers static pressure.
Brock® SHUR-STEP® Bin Stairs
Climb you grain bin with confidence with Brock® Bin Stairs. These work with new construction and retrofit.
TRI-CORR® Aeration Floor w/ PARTHENON® Support
Remarkable strength and superior aeriation. Design provides 3x more floor support compared to other designs.
At Custom Agri Systems, Inc. we are proud to supply Brock®'s line of grain bin accessories to our customers. We understand the importance of making your grain bins more productive and safe, all while improving your experience.
Want to explore more of what Brock®'s line of on-farm grain bin accessories has to offer? View this video and discover key features of their grain bin accessories.
Ready to learn even more about Brock®'s various accessories. Download the brochure that corresponds with your needs and learn more about what Brock® has to offer. 
Enhance the use and convenience of your grain bin
With accessories from CAS & Brock®.